spar·ti·cle
/ˈspärdək(ə)l/
In physics, Sparticles are Superpartners. Now University Alumni and Innovators have a SuperPartner: Sparticle.
Collaborate. Discover. Invest
A Lack of Clear Investment Pathways for Alumni to Invest into University-Bred Startups
Alumni are a strong affinity group that WANT to share expertise and invest in their university's innovation and start-up ecosystem, but they are stymied by the lack of clear pathways to do so.
Innovators Need a Better Bridge to Resources
A collaborative, university-centric platform, focused solely on student innovators and alumni founders, connecting them with alumni investors is missing.
Funding Innovation is Often Challenging for University Researchers.
Not all innovation is investible! University innovators should focus their time and energy on their projects - not on searching for resources, capital and guidance – Sparticle connects the dots.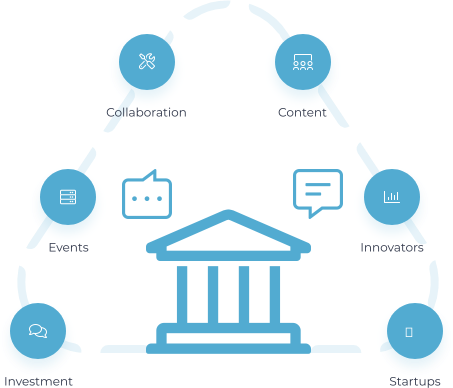 Greater Alumni Engagement
Meet Sparticle INTERSECT
Sparticles sources and vets opportunities for investment into university and almuni startups.
The INTERSECT platform provides innovation-centric content, events and virtual forums so that alumni and other investors can engage directly with the campus startup ecosystem.
Through increased engagement, the INTERSECT platform creates energy and excitement, allowing alumni to connect with their peers, discover and invest to support and profit from their university's idea generation.
Land
Sparticle partners and collaborates directly With universities. On campus infuencers, and prominent alumni keep us connected and help to create the campus INTERSECT community.
Discover
Deal-discovery on the INTERSECT platform happens via our relationship with campus accelerators, events, departments, alumni groups and external investors.
Accelerate
Our GRADE-INT accelerator utilize a proven framework to assist startups on the INTERSECT platform from conception to market. Innovators now have the tools to create an investible organization from the start of their journey.
Evaluate
INTERSECT utilizes A.I., machine learning, predictive analytics and data science tools to provide investors with a quantitative method for selecting the best university startups, and building a portfolio with the highest probability of success.
Invest
INTERSECT enables the creation of syndicates, the automation of SPV formation and the ability to fund within days of making an investment decision. Investors discover, evaluate, syndicate and fund all on the platform!
A.I Driven Quantitive Deal Discovery
A.I. and data science tools provide a quantitative approach to selecting the best startup ideas with the highest probability of success.
The tools we implement on the INTERSECT platform enable startup investors to filter deal flow based on analyzing data and information provided by the startups and their founders. A series of questions, gathered from expert investors and a couple of decades of real-world startup investing experience, form the basis for our quantitative models.
Once deals are filtered to reveal the most well prepared, investors can use more advanced natural language processing A.I technology to assist with final investment decision, either using the A.I. as the investment committee, or simply as a tool to augment an existing decision-making framework or methodology.
The benefits
Why Universities Partner with Sparticle
SPARTICLE EMPOWERS ALUMNI ENGAGEMENT We collaborate with existing university resources and enhance the efforts of on-campus programs, giving back through shared carry in our SPVs, and donating a portion of our platform membership revenue to the university, programs or projects of the Member's choice. Sparticle will streamline the ability to invest, get involved and donate to university innovation.
WHAT ABOUT UNIVERSITIES SPARTICLE HASN'T PARTNERED WITH YET? Sparticle's INTERSECT Platform allows us to reach alumni and university innovators while we are still in the process of building a relationship with a university. The market validates that alumni are willing to invest in university innovation, even via non- affiliated organizations. Sparticle reaches these individuals on social media and via other means with the goal of bringing them back into the university ecosystem.
Encourage engagement
Sparticle's Platform addresses one of a university's biggest problems: engaging with alumni!
Greater Engagement = Increased Investment And Participation!
Progress Innovation
Sparticle's Data-driven methodology more efficiently and effectively identifies start-ups having the highest chance of sucesss.
Drive investment into high impact outcomes